Tacoma Kitchen Remodel Update
This gleaming kitchen sits at the center of a mid-century modern house in Tacoma, WA. The house was built in 1958 and was purchased by its current owners in 2008 as only the second family to occupy it. It is home for a young couple and their two boys.
The house was mostly unchanged during that 50-year period, and the kitchen, seen from the front entry, needed renewal and updating.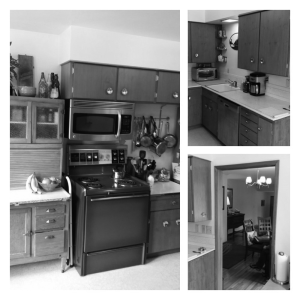 We carried some elements of the original design into our renovation, such as the round-knob kitchen hardware and the cabinet-door style. Most of all, we created both a more usable kitchen and a warm and inviting focal point as you enter the house.
This kitchen was completed by the skilled husband along with a local contractor and friend. We created a new floor plan, limited by the existing three doors, and increased storage and counter space in this modest-sized kitchen. New light fixtures and polished chrome cabinet hardware resemble original fixtures throughout the home. Quartz countertops are a bold choice in "Red Shimmer," sparkling against the glossy glass tile backsplash.  We used under-cabinet strip outlets to keep the backsplash clear of visual clutter. The wife has a new (and expanding) collection of Fiesta and other vintage treasures that are proudly on display.
As the interior designer, I selected the fixtures, materials, and color palette. I worked closely with the homeowners in determining the best floor plan while incorporating durable finishes that speak to the rest of the home.